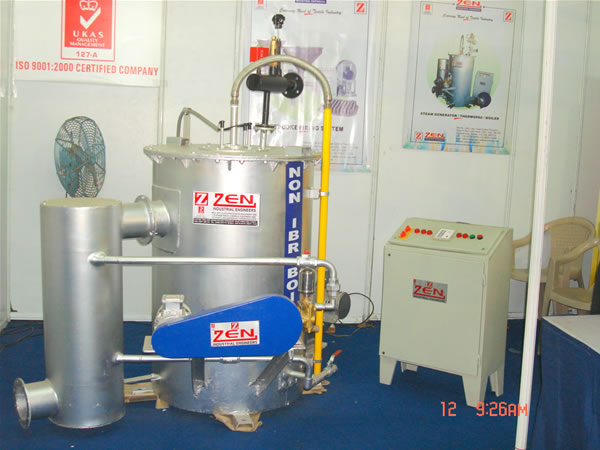 Zen's Non – IBR Four Pass, Fully Automatic Boliers
Operating Principle & Special Construction Features.
ZEN is the latest design in coil type Non – IBR boilers, incorporating unique revolutionary principle of combustion.
The main boiler comprises of a double jacketed M.S. Shell housing a helical coil placed within it. The combustion air is forced through the jacketed shell by means of a centrifugal blower thereby getting preheated and keeping the outer shell cool. The pressure jet burner atomizes the fuel and combustion is established. The flue gas flows axially downwards and on reaching the bottom, it reverses upwards thereby completing two passes in the radiant zone ensure complete combustion and high rate of heat flux.
Flue gases then flow downwards between the coil and inner shell. This is a third pass which is a convective pass.
In the fourth pass, which is through an Efficiency Module comprising of an Atmospheric Economises the flue gases further heat transfer heat, to preheat incoming feed water. The heat optimizer ensures correct feed water temperature to the pump.
Non – IBR
The volumetric holding of the steam generating coil is less than 22.75 liters, by virtue of which the boiler is exempted from Indian Boiler Regulations.
Fully Automatic, Instant Steaming
ZEN is a fully automatic boiler and it switches ON & OFF automatically depending upon a preset steam pressure set on pressure switch. Forced circulation, water tube design enable the boiler to produce steam at full working pressure within 3 to 5 minutes from cold to start.
Easy Operation and Failsafe System
The following safety features ensure failsafe operation of the unit
Pressure switch: For automatic ON & OFF operation of the boiler.
Photocell: For flame detection. It puts OFF the boiler, if steam temperature exceeds set value, because of low water flow, excess fuel flow etc.
Limit switch and level Detector: They switch OFF the boiler if there is NO flow of water through the coil.
Outstanding Features
MULTIPLE FUEL CAN BE USED. BOILER CAN BE RUN WITH LPG, CNG, PETROL, DIESEL, LDO.
REVERSE FLOW DESIGN
Non – IBR
Packaged models in Unitised designs
Fully automatic, instant steaming
Easy operation and failsafe system
Record efficiency
design and specifications subject to changes due to constant research and development.
The efficiency is guaranteed on the test bay with commercially clean internal and external heat transfer surfaces.
Fuel oil consumption is based on net calorific value (NCV) of:
(a)9,600 kcal/kg for furnace oil (F.O.)
(b)10,200 kcal/kg for light diesel oil (LDO).